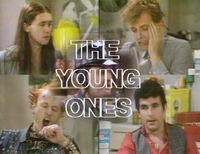 The Young Ones is a British sitcom, first broadcast in 1982, which ran for two series on BBC2.
Its anarchic, offbeat humour helped bring alternative comedy to television in the 1980s and made household names of its writers and performers. Soon afterwards, it was shown on MTV, one of the first non-music television shows on the fledgling channel. When originally broadcast, episodes were shown on BBC2 Tuesdays at 9 pm.
Episode list
Edit
Series 1
Edit
Ep.#
Title
Musical Performance
Original air date
Production code
1
Demolition
Nine Below Zero
performing "Eleven Plus Eleven"
9 November 1982
101
The boys get a letter from the council telling them their squalid house will be demolished. Vyvyan attempts to stop the demolition by beating the construction crew to it, while Mike tries to sweet-talk the crew, Rick ties himself to a giant cross and Neil attempts suicide.
2
Oil
Radical Posture (with Alexei Sayle)
performing "Dr. Martens Boots"
16 November 1982
102
Upon moving into a new house (their old one was hit by a plane in "Demolition"), Vyvyan announces that he has struck oil in the cellar. Mike forces Rick and Neil to do the mining, but Rick retaliates by holding a benefit concert for himself and Neil in the living room.
3
Boring
Madness
performing "House of Fun"
23 November 1982
103
The boys attempt to fight off boredom whilst several very exciting things go unnoticed around them.
4
Bomb
Dexys Midnight Runners
performing "Jackie Wilson Said"
30 November 1982
104
An unexploded atomic bomb falls through the boys' roof and blocks the refrigerator, so Rick tries to hold the country to ransom with it, Mike attempt to sell it to the highest bidder while Neil builds a bomb shelter and Vyvyan tries to detonate the thing. But worse, a television licence inspector calls, forcing Vyvyan to devour the TV.
5
Interesting
Rip Rig + Panic (with Andrea Oliver)
performing "You're My Kind Of Climate"
7 December 1982
105
The boys host a party that gets out of hand.
6
Flood
No musical performance, but a lion tamer does perform

14 December 1982
106
During heavy rains, London floods. Vyvyan briefly visits Narnia during a game of hide-and-seek, and the boys attempt to cook Neil as a solution to their food problems—but are distracted when they realise that they are trapped in the house with a homicidal, axe-wielding Mr. Balowski.
Series 2
Edit
Title
Musical performance
Original air date
Production code
7
Bambi
Motörhead
performing "Ace of Spades"
8 May 1984
201
The boys go to the launderette and compete against Footlights College, Oxbridge in University Challenge.
8
Cash
Ken Bishop's Nice Twelve
performing "Subterranean Homesick Blues"
15 May 1984
202
Cash-strapped, and burning all of their possessions for heat, Neil is forced (by his flatmates) to join the police force. Meanwhile, Vyvyan is pregnant.
9
Nasty
The Damned
performing "Nasty"
29 May 1984
203
A strange package from South Africa interferes with plans to watch a video nasty on a rented VCR.
10
Time
Amazulu
performing "Moonlight Romance"
5 June 1984
204
Rick wakes up in bed next to a beautiful girl, and the house passes through a time warp.
11
Sick
Madness
performing "Our House"
12 June 1984
205
While ill, the boys must deal with an escaped criminal and worse, Neil's parents.
12
Summer Holiday
John Otway
performing "Body Talk"
19 June 1984
206
Summer is here and the lads finally get their results.
DVD releases
Edit
Series 1 & 2 of The Young Ones have both been released on DVD individually and in a special edition boxset in both regions 2 and 4. Region 1 has released just two boxsets, one being just series 1 & 2, the other being series 1 & 2 special edition.
DVD Title
No. of Discs
Year
Episodes
DVD release
Region 1
Region 2
Region 4
Complete Series 1
1
1982
6
—
5 August 2002
29 August 2002
Complete Series 2
1
1984
6
—
18 August 2003
1 October 2003
Complete Series 1 & 2
2
1982 & 1984
12
17 September 2002
—
—
Complete Series 1 & 2
Special Edition
3
1982 & 1984
12
13 November 2007
29 October 2007
7 November 2007